Cameron Pybus
Project Manager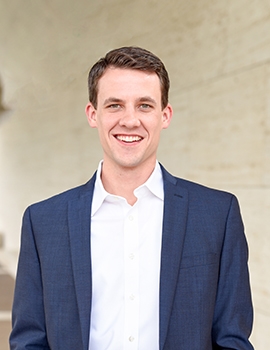 LinkedIn
Cameron Pybus is a world-class problem solver, literally. Before joining Cornerstone as a Project Manager, he worked for a Fortune 500 oil and gas company, developing buildings in West Africa, which led to a similar development in South America and Russia, which eventually took him to Zambia to work on a master-planned educational campus.
Problem solving is one of the tenets of Cameron's project management style. Regardless if he is working on a stand-alone retail space, or an expansive multi-buildings office park, Cameron places an emphasis on environmental design and development. Integrity is another tenet of Cameron's work method, as he treats his coworkers, consultants, and owners all with the respect and value he believes is often missing in the real estate industry.
In an effort to be a good steward of resources, whether those be natural resources or financial, he executes every project with proficiency and tactfulness, which results in a design of equal parts efficient and beautiful. He is experienced in managing various project types and sizes across Texas and internationally, including, but not limited to Class A commercial offices, retail, academic centers, industrial, healthcare (medical laboratories), and science and technology facilities.
Cameron earned an undergraduate degree in environmental design and architecture from Texas A&M University and a master's degree in architecture from the University of Houston. As part of his continuing education, Cameron is active as an associate in the AIA, and a member of the ULI, Real Estate Council of Greater Fort Worth. He also dedicates his time outside of the profession, serving Trinity Presbyterian Church and by volunteering at Rivertree Academy.